Sam Smith Loves His Stretch Marks
Hold the mic—Sam Smith's voice is being heard in a very V way! The singer covers V Magazine's latest issue (V111) lensed by Nicola Formichetti, marking the designer's first major fashion cover as a photographer, where Smith gets interviewed by pal and fan Sarah Jessica Parker. The interview follows a recent profile by The New York Times, where Smith opened up on figuring out what it means to be gay among other topics—apparently he cried throughout the interview. In his convo with SJP, Smith opened up about other intimate subjects, like his relationship with the camera today in comparison to two years ago when fame was just hitting the pop singer. "It's completely different," Smith said. "I think that's come with me losing weight. When I was shooting my first music videos, I just wasn't happy with the way I looked, so I was trying to control the way the camera moved. I got a bit obsessive. I was constantly looking in the mirror, pinching my waist, weighing myself every day. Now, I've gotten to a place where I really love my stretch marks and I just enjoy my body."
Yes, you read correctly! No shirtless pics on Smith's Instagram yet, but it's a new year…so fingers crossed!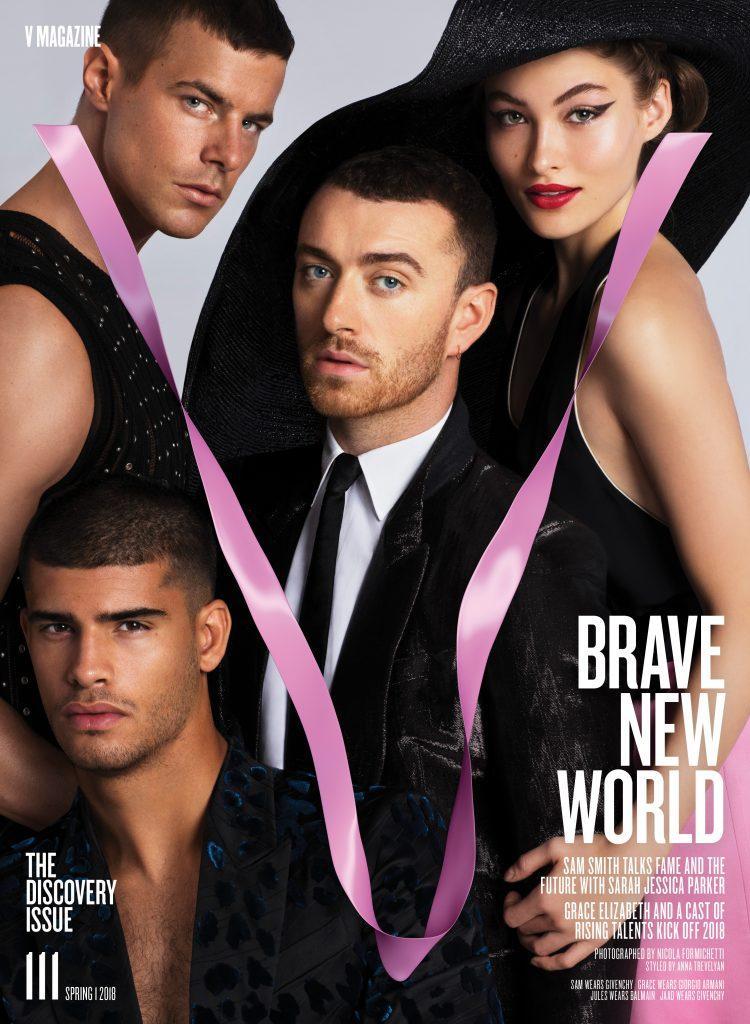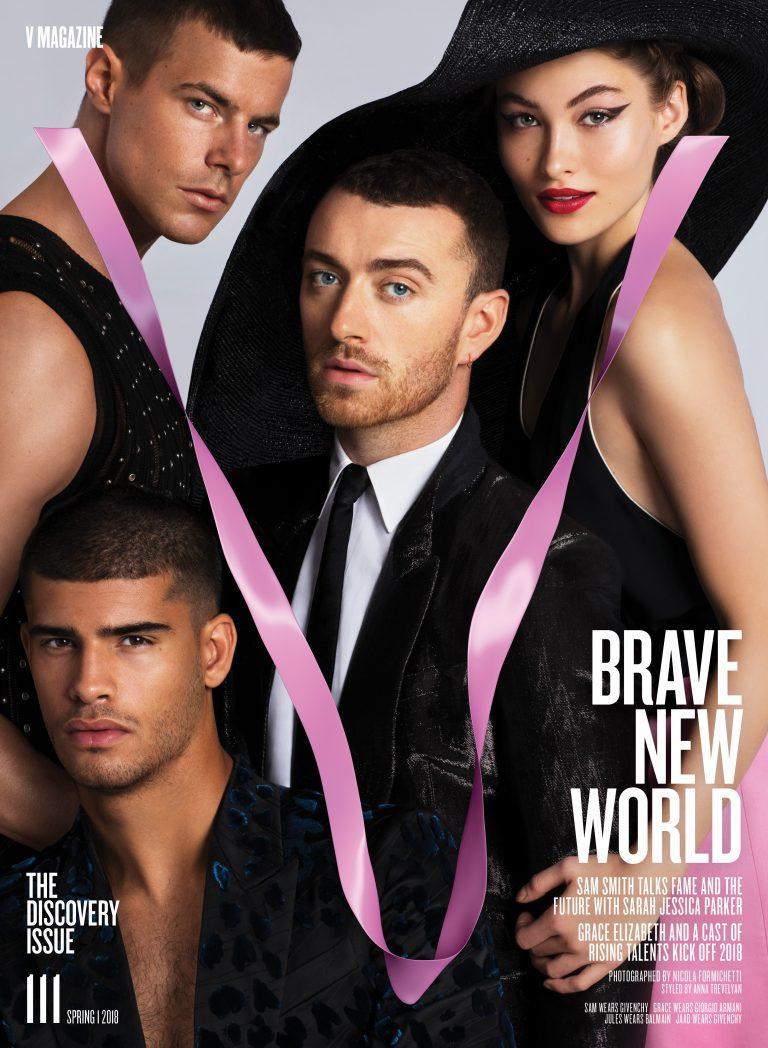 The singer also opened up on the demands of his career. "My job is very self-indulgent: I have to listen to my voice daily, I make decisions on what tour posters or album covers look like, I look at my face while sitting in the makeup chair," Smith told V. "I get kind of sick of myself, so I trust my team. But my body image is always going to be an issue. I need to constantly train myself to watch the right sort of films, to not look at certain ads and think that's how my stomach should look. It's something that I'm fighting every day. I think men should talk about it more."
Smith looks nothing but confident in his cover and photo spread, where he poses with mods including VS angel and mod du moment Grace Elizabeth. Anna Trevelyan styled the spread, putting Smith in a Givenchy suit on the cover, and inside, he goes shirtless with a very British/royal-inspired accessory: a bedazzled tiara.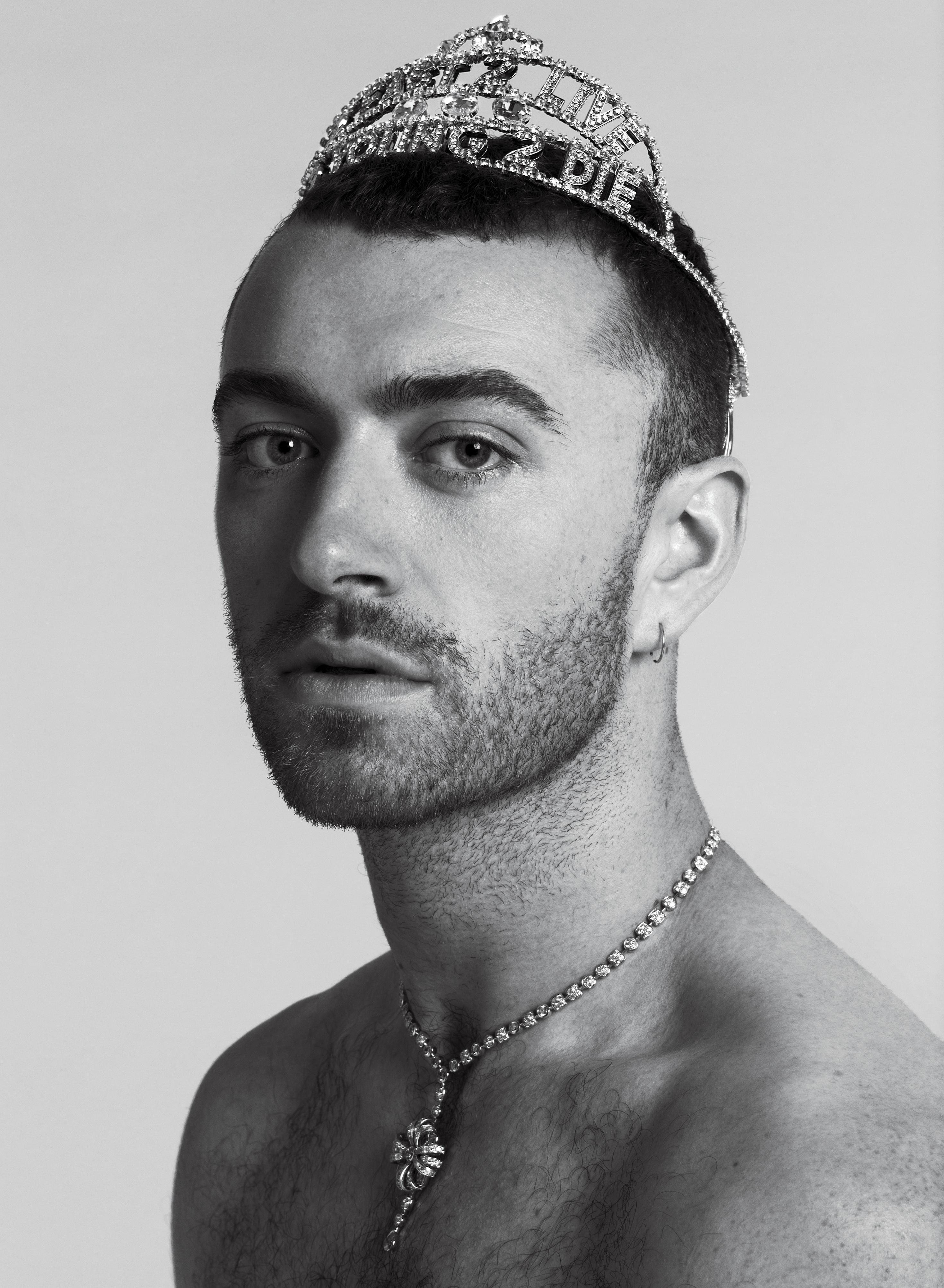 Click here to read the rest of the article, where Smith dishes on experiences with love and loss while navigating his sexual identity, and where his mindset is these days.
Sam Smith Loves His Stretch Marks was last modified: January 3rd, 2018 by